Lime & Lemongrass Diffuser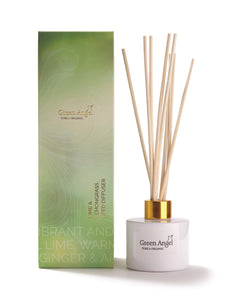 Lime & Lemongrass Diffuser
Regular price $34.69
Green Angel Lime and Lemongrass diffuser will turn your house into a home with luxurious warm and refreshing notes available at Choize.
Product Description

A fresh vibrant juicy home fragrance with cool West Indian Lime heated by hints of Jamaican ginger and aromatic lemongrass.

CONTAINS:
• Lime & Lemongrass fragrance of the
highest quality.
• Natural rattan diffuser reeds.

Size: 100 ml

Green Angel has taken our many year's experiences of blending premium oils and fragrances to create a distinctive, luxurious, and relaxing range of reed diffusers to fragrance your home in a safe and natural way. An excellent complement to our range of Green Angel candles giving you hours of scented pleasure.

Green Angel Lime and Lemongrass diffuser will fill your home with warm and refreshing notes with natural rattan reeds lasting 3 - 6 months, now at Choize.
Estimated delivery time 3-5 Working days