Seaweed & Aloe Vera Eye Gel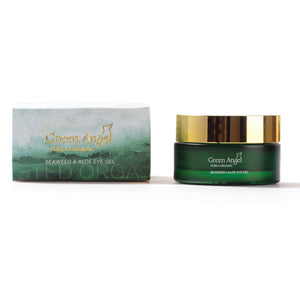 Seaweed & Aloe Vera Eye Gel
Regular price $30.83
Green Angel Seaweed and Aloe Eye gel is a unique product that Green Angel has especially formulated combining four Hand-harvested Organic Irish seaweeds with natural Aloe Vera. The vitamins, minerals, and amino acids in seaweed help your skin to plump up, and in turn, helps to smooth out fine lines with its anti-aging properties. Aloe Vera is one of the oldest known therapeutic herbs and renowned worldwide as a miracle plant.

This cooling eye gel will help to nourish, moisturize, soothe, calm, and increase circulation, help reduce swelling and firm the delicate sensitive skin under the eyes. It is important that this wafer-thin skin under the eyes should be treated very gently and kept as supple as possible, otherwise, the skin will dry, and what happens to dry skin? It ages faster leaving fine lines and wrinkles.
Bottle Size: 30ml

For an added cooling and soothing effect, store in the refrigerator.

Directions: Store Green Angel Seaweed & Aloe Eye Gel in a fridge or a cool place for best results. Apply a fine layer to eye contours
Green Angel Seaweed and Aloe Vera Eye Gel is a natural organic gel that leaves your eyes feeling smooth and helping remove puffiness and fine lines available exclusively at Choize.
Estimated delivery time 3-5 Working days