Seaweed Shampoo with Lavender & Neroli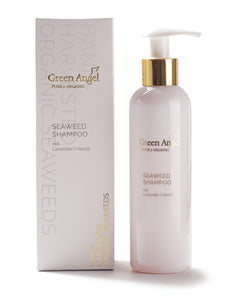 Seaweed Shampoo with Lavender & Neroli
Regular price $23.11
Indulge your hair by using this carefully blended shampoo which combines the exquisite and precious Neroli oil with pure organic Lavender and Mandarin Essential Oils. Let the pure botanicals help enrich your hair, improve the volume and vitality, leaving it soft and manageable.

Botanical glycerin helps draw moisture into the hair cuticles and locks it in helping hydrate the hair, keeping it manageable, and helping to prevent it from becoming frizzy, dry, or breaking off. Sea lavender has an electrostatic effect which helps with easy-combing and anti-static effects.
Seaweed contains vitamins A and C and also rich in potassium, calcium, iodine, magnesium, and iron and seaweed is one of the few vegetable sources of vitamin B essential for healthy hair.
Bottle Size : 200ml
Directions: Apply to wet hair. Massage gently, working into a creamy lather. Rinse with warm water. Is suitable for frequent use and colored hair.
Estimated delivery time 3-5 Working days