Vital Moisture Gift Set – Seaweed Daily moisturise face cream & Seaweed Night Cream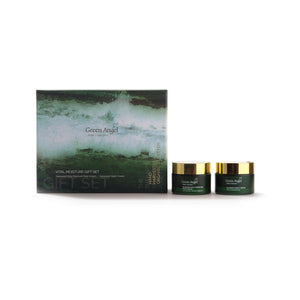 Vital Moisture Gift Set – Seaweed Daily moisturise face cream & Seaweed Night Cream
Regular price $57.94
Green Angel Vital Moisture Gift Set – Contains Seaweed Daily moisturize face cream and Seaweed Night Cream available at Choize is a perfect gift or for anyone looking to have brighter and more youthful skin.
Product Description

This super duo will help keep the skin moisturized 24/7. It is a suitable gift for almost any special occasion. It contains Seaweed Daily Moisture Face Cream with Jasmine, Neroli & Vitamin E (50ml) and Seaweed Night Cream with 6 Essential Oils (50ml)

Seaweed Daily Moisture Face Cream

Enriched with four hand-harvested Organic Irish Seaweeds which contain vitamins, minerals, iron, and magnesium, and the natural antioxidant Vitamins E which helps to give great protection and nourishment.

This Daily Moisture Face Cream also contains lots of other goods, such as Jasmine organic essential oil which has been renowned for centuries for its rejuvenating effect on the skin. The name is derived from Persian (yāsamīn) meaning "God's gift." The scent itself has been described as exotic and sensuous, intense and warm, and really gives an inner sense of beauty.

This delicious Daily moisture face cream which goes on so smoothly and absorbs really well also contains skin-soothing Neroli Organic Essential Oil produced from the blossom of the bitter orange tree, smells divine and is very calming on the skin.

It has rejuvenating and regenerating benefits for every skin type, helps maintain moisture levels, its antibacterial, anti-inflammatory, and antiseptic properties make it ideal also for blemished skin.

Seaweed Night Cream with 6 Essential Oils

When you go to sleep at night your natural repair system gets to work, your breathing slows down, your blood pressure drops, your blood flow moves to the muscles which helps repair tissue. The skin actually absorbs ingredients better at night than during the day so the benefits of using a night cream are endless.

This luxurious Green Angel Night Cream is uniquely formulated to help maximize the skin's natural repair system and help rejuvenate the skin throughout the night.

With a blend of mineral-rich Hand-harvested Organic Irish seaweeds and a rich, blissful blend of calming and moisturizing Juniper, Neroli, Lavender, Sandalwood, Chamomile & Frankincense organic essential oils this cream will help deeply nourish the skin while you sleep, also helping to hydrate and improve skin elasticity and targeting fine lines.

The calming and nourishing organic oils feel so luxurious as they soak into your skin helping prepare you for a good night's sleep.

Contains 2x50ml bottles.
Green Angel Vital Moisture Gift Set – Contains Seaweed Daily moisturize face cream and Seaweed Night Cream is perfect for dry or damaged skin it will instantly give nourishment back into your skin with 100% organic and natural ingredients available at Choize.
Estimated delivery time 3-5 Working days